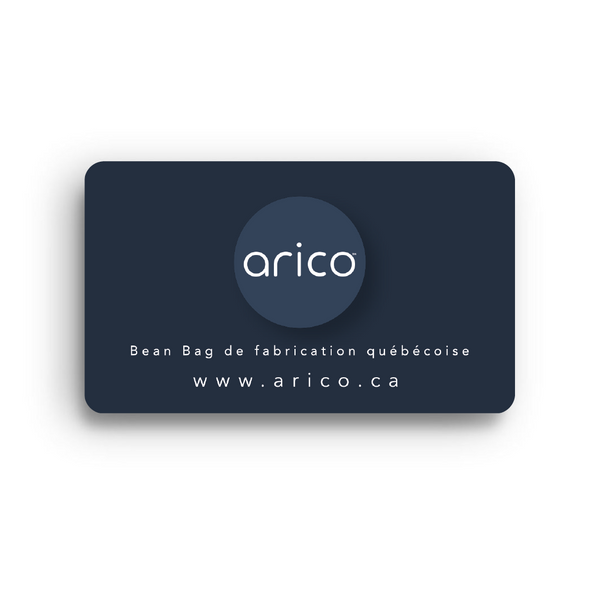 Description
ARICO Gift Cards: Offer Choice and Satisfaction to your loved ones.
At ARICO, we know you love our products. That's why we've made it easier than ever to reward and spoil your employees and loved ones with our ARICO gift cards. With their validity online and at our factory, our gift cards offer a versatile and convenient solution to provide choice and satisfaction to those you love.
Much more than just a map...
They represent a great way to encourage us and support our brand, while allowing their beneficiaries to choose from all of our products online. Whether for a personal purchase or for a special gift, our gift cards offer a personalized shopping experience tailored to everyone's preferences.
When you offer an ARICO gift card, you offer the freedom to choose from our wide range of high quality products. From our comfortable Bean Bags to our stylish accessories, including our collections of trendy flowerpots, there is something for everyone. Whether your loved ones prefer ultimate comfort, modern aesthetics, or a touch of greenery in their space, our products are designed to meet their needs and desires.
In addition to online convenience, our e-gift cards can also be used at our factory. This means that their beneficiaries can come directly to our store to choose and buy their favorite products. It's a great opportunity to discover our universe, explore our collections in person and enjoy attentive and warm customer service.
A versatile option. 
Whether rewarding your employees for their hard work, celebrating a special occasion, or simply treating loved ones, ARICO gift cards are a versatile option suitable for any occasion. They're perfect for birthdays, parties, corporate rewards, thank-you gifts, or just to indulge the right way.